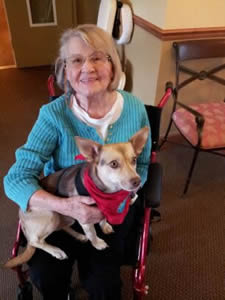 BUDDY OM - THE THERAPY DOG
Studies have shown that holding or petting an animal will lower blood pressure, release strain and tension and draw a person out of loneliness and depression.
* Click here to see Buddy Om featured in Coastal Canine Magazine, Spring 2016!
* Buddy participates in KSCO Radio Talk Show about "Therapy Dogs" (July 23, Steppin In)
Therapy Dog International certifies, insures, and registers volunteer Therapy Dogs.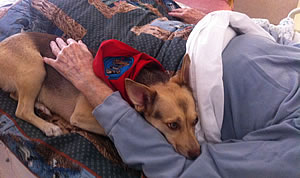 Buddy Om provides "Unconditional LOVE" as a Registered Therapy Dog with TDI. He accompanies me to Senior Living Communities, Skilled Nursing Facilities and Hospitals to take time to paws for a short time and give unselfish love.

Buddy Om and I give a minimum of 30 hours of service a month and feel blessed to contribute to our community. Below are a collection of photos to illustrate Buddy the Therapy Dog at work!